Memoir-based '12 Years a Slave' is getting major Oscar buzz
(Read article summary)
'12 Years a Slave,' which screened at the Toronto Film Festival, is already being discussed as an Oscar Best Picture frontrunner. The movie arrives in theaters Oct. 18.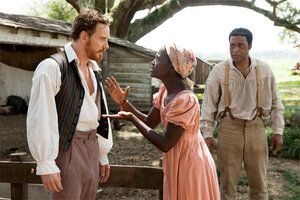 Francois Duhamel/Fox Searchlight/AP
The film "12 Years a Slave," based on the memoir by slave Solomon Northrup, is already getting major awards buzz as well as being presumed a frontrunner for the Oscar Best Picture prize.
The film follows Northrup (Chiwetel Ejiofor), a free African American, as he is kidnapped, sold into slavery, and forced to work on various plantations in Louisiana. Northrup's memoir of the same name was released in 1853.
"12 Years a Slave" is directed by Steve McQueen and also stars "Star Trek Into Darkness" actor Benedict Cumberbatch and "Prometheus" actor Michael Fassbender as slave owners as well as Lupita Nyong'o as a fellow slave on one of the plantations where Northrup works.
The movie will be released Oct. 18 in the US but was screened at this year's Toronto Film Festival, where it captured the People's Choice Award for best movie, considered the top prize. Monitor critic Peter Rainer found the film "alternately searing and stilted" but noted that "with extended sequences featuring whippings and welts, it's a far cry from the goofball horrifics of 'Django Unchained' or 'Mandingo.'"
So far, the film has earned a 92 out of 100 average grade on the review aggregator Metacritic, and after its win at the Toronto Film Festival, Guardian writer Catherine Shoard said of the Oscar race, "McQueen's drama looks almost unbeatable, despite nearly six months to go until the Oscars ceremony."
---