Elizabeth Gilbert's 'Signature of All Things' wins mostly positive reviews
(Read article summary)
Gilbert returns to fiction with her new novel, which was released Oct. 1.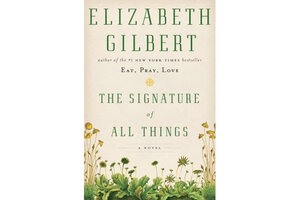 Writer Elizabeth Gilbert is perhaps best known for her memoir writing, including her blockbuster 2006 book "Eat, Pray, Love."
But Gilbert has returned to fiction with her new novel "The Signature of All Things," and so far her foray into the world of make-believe is getting mainly positive reviews.
"Signature" centers on Alma Whittaker, daughter of the richest man in 19th-century Philadelphia who becomes a botanist and falls in love with a man whose beliefs don't always match up with science.
The book was recently selected as one of the 10 best books of October by Amazon's editors, and Amazon editorial director Sara Nelson was especially impressed with how naturally Gilbert's research on the locations to which Alma travels fit into the book. "It just really works as a novel," Nelson said. "The research isn't overwhelming."
NPR writer Lizzie Skurnick was won over, calling "Signature" "wonderful" and "one of the best of the year." While many subjects are addressed in Gilbert's narrative, says Skurnick, the book is "revelatory, not overwhelming."
New York Times writer Janet Maslin called "Signature" "vibrant [and] hot-blooded," though she noted that Gilbert's attempts to capture a nineteenth-century tone in her writing can be a little obvious.
---