Narnia book 'The Silver Chair' will be next for a movie adaptation
(Read article summary)
C.S. Lewis's 'The Silver Chair' will be the fourth Narnia book recently adapted for the big screen.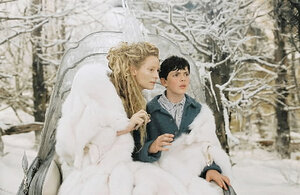 Phil Bray/Walt Disney Pictures/AP
A movie based on the Chronicles of Narnia book "The Silver Chair" by C.S. Lewis is being created.
The current series of movies began with the 2005 release of "The Lion, the Witch, and the Wardrobe," then "Prince Caspian" followed in 2008. The most recent, "The Voyage of the Dawn Treader," appeared in 2010.
Mark Gordon of The Mark Gordon Company will produce the movie along with the C.S. Lewis Company.
"Like many readers, both young and old, I am a huge fan of C.S. Lewis's beautiful and allegorical world of Narnia," Gordon said in a statement. "These fantasy stories inspire real-world passion among millions of devoted fans around the world. As we prepare to bring the next book to life, we are humbled and excited to contribute to the outstanding legacy of Narnia."
"Silver" does not include any of the Pevensie children, who were the heroes of "Lion" and "Caspian." Only the two younger siblings, Edmund and Lucy, appeared in "Dawn," and "Silver" centers on the children's cousin Eustace and his schoolmate Jill.
---