Kobo removes all self-published titles. Is this censorship, an overreaction, or just good sense?
(Read article summary)
Amazon, Barnes & Noble, and Kobo removed self-published pornographic titles from their sites and Kobo stopped sales of self-published titles altogether.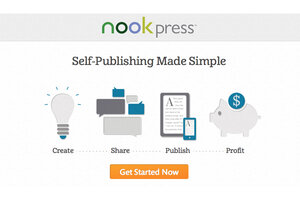 To censor or not to censor?
That is the question confronting several of the world's top e-book sellers as a messy abuse-themed self-publishing scandal brews.
Retailers including Amazon, Barnes & Noble, the UK's WH Smith, and Canada's Kobo have removed problematic self-published titles after the discovery of a slew of pornographic abuse-themed e-books. WH Smith and Kobo have gone so far as to shut down an entire website and suspend the sale of all self-published books, respectively.
The move came after news last week that these retailers, knowingly or not, were selling and profiting from self-published e-books featuring rape, incest, and bestiality. (Retailers collect a percentage of the sales on self-published books.)
According to news reports, titles such as "Taking my drunk daughter," had been on sale on Amazon and search functions would automatically suggest phrases such as "daddy daughter impregnation."
As a result, Amazon and Barnes & Noble have said they are in the process of removing such books. Kobo has temporarily suspended all self-published titles while it performs a review process. WH Smith took the serious step of shutting down its entire UK website while it removes abusive e-books.
The news illustrates the risks that come with self-publishing, which allows anyone to get their book published and pocket a significant share of the sales. Some, like self-publishing superstars Amanda Hocking and John Locke, have attained fame and fortune from their self-publishing success.
But there is a dark side: it's the Wild West of publishing, with few controls, editors, or oversight. The result can be self-publishing embarrassments like abuse-themed e-books.
The controversy doesn't end there. As a number of retailers act to remove abusive e-books from their sites, some observers are calling foul on censorship, saying pulling e-books is a violation of freedom of speech.
---