Salem witch trials: the original 'Halloween witch' scare
(Read article summary)
Writer Marilynne K. Roach explains which stories are true and what is only myth when it comes to the famous Salem witch trials.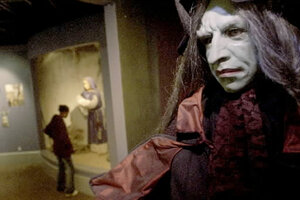 Gretchen Ertl/AP
As we prepare to scare ourselves silly this Halloween with haunted houses and horror-movie marathons, one theme will be as popular as ever: The outsider who lurks within, unseen until it's too late.
Aliens who look just like us, perhaps. A maniac who's calling from inside the house. A mysterious mother who "isn't quite herself today."
It's scary stuff, especially when it's based on the horrors and tragedies of real life. But there's another side, one explored by writers like Arthur Miller and Rod Serling: What happens when fear and hysteria turn neighbor against neighbor, loved one against loved one?
The Salem Witch Trials of 1692 offer insight into the price of paranoia, but their lessons can get lost amid pop culture's fascination with witchcraft. On TV alone, they've served as a foundation for both the light comedy of "Bewitched" (a statue of the Samantha character stands in Salem) and the deeply dark themes of the gothic new TV show "American Horror Story: Coven."
Historian Marilynne K. Roach, a lifelong resident of nearby Watertown, is a leading Salem witch trial expert. She offers a unique take on the tragedy by combining fictional recreations and historical facts in her new book "Six Women of Salem: The Untold Story of the Accused and Their Accusers in the Salem Witch Trials."
In an interview, Roach punctured some myths, identified some heroes and explained how the leaders of Salem ultimately redeemed themselves, at least to a point.

Q: Why this place and this time? What factors came together to make the Salem witch trials happen?

A: Somebody has called it a perfect storm, a terrible combination of a whole lot of things happening at once.
---