Survey: 85 percent of US writers concerned about government surveillance
(Read article summary)
According to a PEN American Center and FDR Group survey, 33 percent of US writers have avoided certain topics in phone conversations or e-mail or have considered doing so and 27 percent have censored their ideas on topics to write or speak about.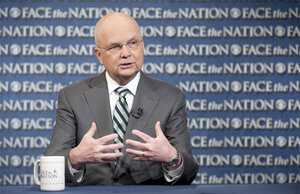 Reuters
Chilling news for readers and writers alike: A new report has found that large numbers of American writers are concerned about government surveillance and are self-censoring their writing as a result.
Some 85 percent of writers are worried about government surveillance of Americans, with 73 percent responding they have never been as worried about privacy rights and freedom of the press as they are today, according to a survey by the PEN American Center and the FDR Group.
"Freedom of expression is under threat and, as a result, freedom of information is imperiled as well," the report stated.
The report, which surveyed 528 PEN members in October, found that government spying, including surveillance by the National Security Agency, has had a serious chilling effect on writers, some of whom are avoiding speaking about or writing on controversial topics as a result.
The report found:
• 76 percent of PEN writers surveyed think increased government surveillance is especially harmful to writers because it impinges upon the privacy they need to create freely
• 81 percent of writers are very concerned about government efforts to compel journalists to reveal sources of classified information, while another 15 percent are somewhat concerned
• 33 percent have steered clear of certain topics in personal phone conversations or email correspondence or have seriously considered doing so
• 27 percent of writers – or one in four – have avoided writing or speaking about a certain topics or have seriously considered doing so for fear of being subject to surveillance
---