New Italian TV show is 'American Idol' for authors
(Read article summary)
'Masterpiece,' which fuses reality TV with the intimate art of writing, may come to other markets if it succeeds in Italy.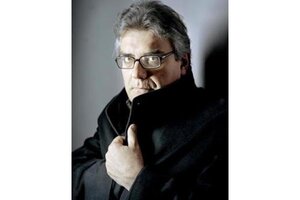 How to revive a floundering publishing industry? Oddly enough, in Italy the answer is a reality TV show.
This Sunday is the premiere of "Masterpiece," an Italian talent show competition that pits aspiring writers against one another to win a book deal.
That's right, it's "American Idol" for authors.
"Italy is a country where people read less and less – they're publishing more books and selling fewer," novelist and "Masterpiece" judge Giancarlo De Cataldo told The New York Times. "The book is dying, and we must do everything we can to save it. Even a talent show."
The creators of "Masterpiece" hope to bring the same attention to books that shows like "American Idol," "China's Got Talent," and "X Factor Indonesia" have brought to music, and, as NPR put it, to "create a new class of literary stars."
At stake is a book deal with Italian imprint Bompiani, a massive initial print run of 100,000 copies – and the sort of attention and fame most writers could only dream of.
Here's how the talent competition works: Prospective contestants submit a manuscript of an unpublished novel – nearly 5,000 flooded the offices of "Masterpiece" when the call went out, according to the NYT. Readers select a dozen contestants for each of six episodes, which judges then winnow down to four hopefuls per show.
---