'Hunger Games' author Suzanne Collins, in rare interview, muses on war and the cycle of violence
(Read article summary)
Suzanne Collins says she 'sort of completed' a goal of hers this fall by releasing her children's book 'Year of the Jungle,' which examines war from a child's point of view. Collins wants to write a book about war for every child age group, she says.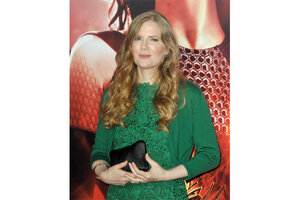 Jordan Strauss/Invision/AP
In an interview with Time Magazine, "Hunger Games" author Suzanne Collins discussed the upcoming film adaptation of the second book in her series, her favorite characters, and her children's book "Year of the Jungle."
"Catching Fire," the second book of the "Hunger Games" series, focuses on protagonist Katniss and her friend and fellow Games victor Peeta as they deal with the aftermath of their win and are forced to go back into the arena as unrest in the country grows.
Collins agreed with Time critic Lev Grossman when Grossman told her that two of Katniss and Peeta's fellow victors, Johanna and Finnick, are his favorite characters.
"They're sort of onion characters," Collins said of the two. "And as you peel back the layers you find more and more about what they've experienced."
She also commented on the seeming difference between her writing "Hunger Games" and penning scripts for the comforting children's TV series "Little Bear."
"All the writing elements are the same," Collins said of writing the two. "You need to tell a good story…. You've got good characters…. People think there's some a dramatic difference between writing Little Bear and the Hunger Games, and as a writer, for me, there isn't." 
The author said she recently "sort of completed" a personal goal by writing her children's book "Year of the Jungle," which was released this fall and focuses on a young girl whose father is fighting in Vietnam. Collins says she was looking to write a story about war for every child age group. Her 2003 book "The Underland Chronicles: Gregor the Overlander" is her war story for middle-grade children, she said. Collins' father was in the military and "he, I think, felt it was his responsibility to make sure that all his children had an understanding about war, about its cost, its consequences," she said. 
"If I took the 40 years of my dad talking to me about war and battles and taking me to battlefields and distilled it down into one question, it would probably be the idea of the necessary or unnecessary war. That's very much at the heart of it," Collins said. "The picture book is really just an introduction to the idea of war…. The Underland Chronicles, sort of moving along in sophistication, is about the unnecessary war. The Underland Chronicles is an unnecessary war for a very long time until it becomes a necessary war…. In The Hunger Games, in most people's idea, in terms of rebellion or a civil-war situation, that would meet the criteria for a necessary war…. And then what happens is that it turns back around on itself. If you look at the arenas as individual wars or battles, you start out in the first one and you have a very classic gladiator game. By the second one it has evolved into what is the stage for the rebellion, because the arena is the one place that all the districts that cannot communicate with each other, it's the one place they can all watch together. So it's where the rebellion blows up. And then the third arena is the Capitol, which has now become an actual war. But in the process of becoming an actual war, in the process of becoming a rebellion, they have now replicated the original arena. So it's cyclical, and it's that cycle of violence that seems impossible for us to break out of."
---