'Burial Rites' author Hannah Kent finds mystery in Iceland
(Read article summary)
Chronicling the Chill of 1820s Iceland in 'Burial Rites,' Australian author Hannah Kent finds deep humanity, for better and worse, in a faraway isle.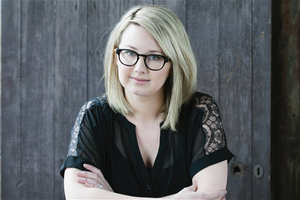 Australian author Hannah Kent has a single novel to her name, which isn't surprising for a woman who hasn't yet reached her thirties. But in other ways, she's managing to bypass expectations.
For one thing, the novel, "Burial Rites," has nothing to do with Australia. It's set in Iceland of the 1820s and 1830s and tracks the real-life story of a young woman facing her execution.
For another, the novel is a sensation among book reviewers drawn to its depiction of the struggles of a gritty people and a doomed woman amid a harsh landscape. "Gorgeously atmospheric," declared The New Yorker, and the Sunday Times in the U.K. called it "a remarkable achievement" on par with the work of Margaret Atwood.
Here in the pages of the Monitor, I praised the "haunting elegance" of an "intense exploration of a young woman's mind, an insular community's fears, and the destructive power of those who can entrance others."
In an interview, Kent talked about the horrific events that inspired her work, the role of Iceland as a character in the novel, and humanity's ever-present rush to judgment.

Q: What's the true-life story behind "Burial Rites" and how did you come across it?

A: Ten years ago, I lived in Iceland for 12 months as a Rotary exchange student.
The town that hosted me was in the north of the country, and turned out to be located quite close to the site of Iceland's last execution. A few months after I arrived, my host parents drove me past this site and told me a little about the 1828 murders that had resulted in two people being beheaded there.
---