Norman Rockwell family calls Deborah Solomon's Rockwell bio 'fiction'
(Read article summary)
'American Mirror,' Solomon's bio, includes allegations that Rockwell's paintings include homoerotic undertones.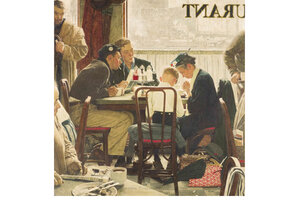 Sotheby's/AP
His paintings depict such a warm American utopia replete with sweet small-town scenes, tender moments, and flawless family vignettes that Norman Rockwell illustrations have become something of a paragon of perfect domestic happiness.
But the man behind those blissful scenes lived a far darker life, fraught with anxiety, depression, and loneliness. He was a twice-divorced, thrice-married repressed homosexual who gravitated toward men and boys.
So says Deborah Solomon, author of a new – and very controversial – biography of the famous family man, "American Mirror: The Life and Art of Norman Rockwell."
The allegations in Solomon's daring new book have been drawing intense speculation about the man Americans thought they knew. After all, who can resist dark revelations about an icon of American idealism?
They are also drawing objection from Rockwell's family, who cooperated with Solomon on the book and are calling her claims "false" and "unsubstantiated."
First, the facts: Rockwell did, indeed, marry three times and father three sons. His first wife left Rockwell for another man, his second suffered from depression and died at age 51, possibly by suicide.
Unlike the paradigm of familial bliss he depicted in his paintings, Rockwell's relationships with his family members, including his mother, wives, and sons, appeared to have been fraught with difficulty.
Solomon says Rockwell was married to his work at the expense of his family.
---