'Mob City': Author of the series' source book John Buntin discusses organized crime in L.A.
(Read article summary)
James Buntin's book 'L.A. Noir' is the basis for the TNT miniseries 'Mob City.'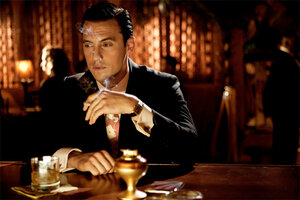 Scott Garfield/TNT/AP
Quick: Name a mobster haven. New York City? Al Capone's Chicago? Tony Soprano's New Jersey? Sure. But the City of Angels deserves a place in the mix too.
Los Angeles was "Mob City" in the 1940s, as the title of a new TV miniseries puts it. The second pair of episodes of the TNT crime show air tonight, continuing to track the real-life era of Bugsy Siegel, Mickey Cohen, and a deeply corrupt LAPD.
"Mob City" is based on the 2010 book "L.A. Noir: The Struggle for the Soul of America's Most Seductive City" by John Buntin. I reached Buntin in Nashville, where he lives with his family, and asked him to describe how organized crime and corruption came to dominate the City of Angels.
Q: What made Los Angeles fertile ground for crime and public corruption?

A: L.A. was a dusty pueblo of 5,000 souls until the railroads connected it to the rest of the country in the 1880s. By the 1920s, it was home to 500,000 people and the largest city in the West.
It was an anonymous city, filled with newcomers. It lacked machine politics and ethnic and neighborhood loyalties weren't established. So politicians needed a lot of money to run for office since you had to spend money on media to reach people.
---