4 fabulous picture books for the young readers on your list
(Read article summary)
Top off your last-minute holiday shopping list with these four fabulous picture books for young readers.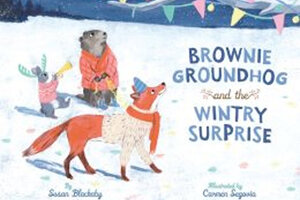 Have you made your list, checked it twice and discovered there are still a few children who need that special gift? Think books! The choice is vast and endless.
1. "Brownie Groundhog and the Wintry Surprise," by Susan Blackaby, illustrated by Carmen Segovia
Turning the first double-spread of this beautifully illustrated story, we watch Brownie Groundhog prepare for her long hibernation. While Bunny nibbles layer cake, Brownie stifles a yawn. As she hurries off to hunker down till February, she cautions the fox not to wake her up and "don't eat Bunny. She's company." But the ladder is in Brownie's closet, and the trumpet, and a hammer. Brownie Groundhog is bound to notice their preparations.
Although Bunny and the fox have the best intentions, eventually Brownie is awakened, wraps herself in a warm robe and sleepily follows the fox and Bunny. Once outside, the three delight in the wintry surprise, a riot of color exploding off the pages. That's not the only delightful surprise in this follow-up to an earlier "Brownie Groundhog" adventure. The tiniest of details will make children and adults smile on every page. Story and perfect illustrations combine to make a gorgeous book to be read many times. A real treasure.
2. "If You Want to See a Whale," words by Julie Fogliano, pictures by Erin E. Stead and
3. "Hello, My Name is Ruby," by Philip C. Stead
These two picture books prove you don't need a lot of words to tell a memorable story. Together, at bedtime, they will delight any young child, making quiet dreams a possibility.
In Julie Fogliano's poetic text, a boy and his basset have lots of time to wonder, "Is that a whale?" They must wait, ignoring possible pirates, pelicans, and even roses. Stead's delicate illustrations bear looking at over and over, and not just for the tiny bird on each page. The lyrical, almost poetic prose will tickle the imagination of young readers.
---