Christmas: Why a book is the most satisfying present you'll find under the tree
(Read article summary)
Writer Michael Gorra says books are the only gifts that can still surprise you long after you've ripped off the wrapping paper.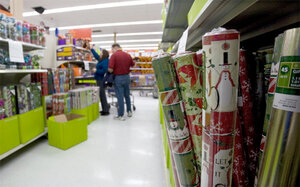 Richard Clement/Reuters
Welcome, book lovers, to Christmas Day, 2013. Here's hoping that you find at least one special volume under the tree.
Because, at a certain point in your life, as scholar Michael Gorra has pointed out, books are about the only present that can carry the Christmas magic.
Here's Gorra:
"The Christmas tree holds few surprises for those past childhood. You recognize the wrapped shapes of shirtboxes and wine bottles, and wonder only about the color; the little envelopes contain cards from stores that you are already known to like. Books too – the shape and weight are the most giving of giveaways, and however much their contents may thrill, the names on their covers are already known in advance."
Why are book lovers rarely surprised by the titles they unwrap on Christmas? Because, as Gorra explains it, the books given as gifts are often the ones that the recipient has requested. It's the only way to ensure that a bibliophile doesn't already have the book on his shelf.
But even if we get a volume as a Christmas present that was on our wish list, the book can still surprise us, of course, once we start reading it. The promise of surprise is the only real reason, of course, to read in the first place.
Which is why, back in 1982, when Gorra's mother gave him a package containing just the book he had asked her to get, Gorra was still delighted. The book was "Hawthorne: Tales and Sketches," the second title from a new publisher called The Library of America.
About the LOA, you probably already know. Now three decades old, the nonprofit publisher has been producing definitive volumes from the classic canon of American literature – everything from transcendentalist Ralph Waldo Emerson to horror writer Shirley Jackson. With their library-quality paper, durable green covers, exquisitely stitched bindings and signature, black-and-white dust jackets, as sensibly practical as a Pilgrim's smock, the LOA books treat literature as an occasion.
---