Resolution for 2014: Read one commentator a week you disagree with
(Read article summary)
Could a willingness to read more widely and deeply make Americans more open to each other, more willing to embrace difference?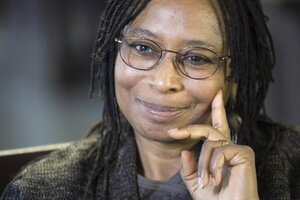 John Amis/AP
Two years ago, I published a Christian Science Monitor op-ed encouraging my fellow Americans to embrace a New Year's resolution aimed at making the political culture a happier place.
My suggestion was simple: In the coming 12 months, at least once a week,read a political commentator with whom you disagree. If you're a liberal, give a conservative writer a few moments of your time, and if you're conservative, give a commentator to your political left a quiet hearing. My hope was that this small exercise in even-handedness might help bridge the country's partisan divide.
My essay took on a life of its own, leading to lots of e-mails and a few talk show appearances, including a guest slot on National Public Radio.
A teacher from a solidly liberal neighborhood in Boston called to say that he'd try my resolution on his students, none of whom could imagine having anything good to say about the recent presidency of George W. Bush. I chuckled at that observation, since it seemed the mirror opposite of my own experience in my red-state Louisiana home where President Barack Obama, rather than Bush, has been the polarizing figure.
---