'The Poisoner's Handbook' author Deborah Blum explores the history of forensic science
(Read article summary)
Blum, whose book was adapted into a PBS documentary airing Jan. 7, explains why obtaining poison used to be so easy, why it was historically thought of as a 'woman's weapon,' and how forensic science changed it all.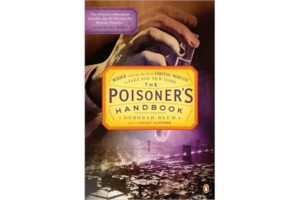 Not too long ago, the keys to murder – undetected murder – lurked as close as the kitchen pantry.
Arsenic, cyanide, and strychnine were components of common household supplies and it wasn't uncommon to have them lying around. If not, a trip to the general store would produce them in a jiffy. Often colorless and tasteless, they'd be just the thing to add to a wastrel husband's oatmeal or an inconvenient grandmother's pudding.
Voilà: A perfect murder.
But the golden age of poisoning, which stretched from the 19th century into the 20th, came to an end thanks to scientists who set the standards for today's CSI crews.
Science journalist Deborah Blum tracked the evolution of high-tech crime-fighting in 2010's best-selling The Poisoner's Handbook: Murder and the Birth of Forensic Medicine in Jazz Age New York. Tonight PBS's "American Experience" series will air a documentary based on her book.
I reached Blum this week at her home in frigid Wisconsin. We talked about the alleged femininity of poisoners, the use of killer poisons as an aid to inheritances, and the legacy of early forensic scientists.
I also mentioned the 70-degree-plus weather here in San Diego. "I'm hanging up now," she declared. Hope she doesn't send me any gifts from the pantry!

Q: Why was it so easy to poison people before the forensic scientists stepped in?

A: A lot of good poisons were easily available. You could go down to the corner store and get arsenic and cyanide was in all sorts of household products.
---