Hitler's 'Mein Kampf' tops ebook sales
(Read article summary)
The Nazi dictator's controversial manifesto is among the bestselling political books on Amazon and iTunes.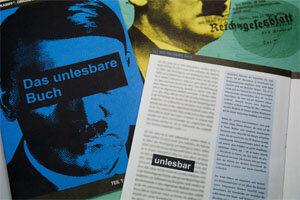 Thomas Peter/Reuters
Adolf Hitler's "Mein Kampf" is ranked as the second most downloaded item from the online University Library Project. The 1925 controversial manifesto has also been one of the top-selling political books on iTunes and Amazon throughout this week
One electronic edition ranked 12th in the Politics section of the iTunes bookstore, with another version ranking 15th. On Amazon, it has been the number one bestselling book in the Propaganda & Political Psychology section.
One possible explanation is that readers feel more comfortable with the level of privacy provided by ebook readers. While readers might not want to have Hitler's writing on their bookshelves, electronic books allow them to read books like "Mein Kampf" in secret.
Journalist Chris Faraone told ABC News that the phenomenon may be similar to that of "Fifty Shades of Grey," which sold more than 1 million copies on Amazon's Kindle. While most book titles earn 20 percent of their revenue from ebooks, "Fifty Shades of Grey" has drawn 50 percent of its earnings from digital sales.
---