For last Civil War vets, a time of fraud and honor
(Read article summary)
Richard Serrano, author of 'Last of the Blue and Gray,' looks back at Civil War hoopla, chicanery, and glory.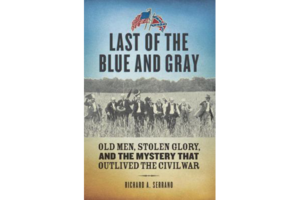 As the US Civil War neared its 100th anniversary in the late 1950s, plenty of Americans kept their eyes on a handful of veterans who'd already passed the century mark themselves. They were the last men who'd fought for North and South, and pretty soon there'd be only one left, a final living symbol of the war between the states.
These grizzled old men spent their days greeting reporters and local schoolchildren, wowing physicians with their longevity, and monitoring each other's status. And as much as they could – for they were each well past 100 – they remembered their service.
It's a lovely story about remembrance and the passage of time. Or so it seems until you look closer.
Many of these elderly men were frauds, seeking fame or money or just a chance to become something other than ordinary. But which vets were fake and which were real? And how do you even find out who legitimately fought in a long-ago war?
Richard Serrano, a longtime Washington correspondent for the Los Angeles Times, chronicles the final days of the Civil War veterans – genuine and otherwise – in his new book "Last of the Blue and Gray: Old Men, Stolen Glory and the Mystery that Outlived the Civil War."
In an interview, Serrano talked about the origins of his book, the myriad motives of those who lied, and the legacy of these real and imagined heroes.
Q: How did you come across the topic of the veterans of the Civil War?
---