Big lenders begin to find stable ground
Stronger financial institutions are purchasing weaker ones. Case in point: Bank of America has announced it will purchase Countrywide Financial.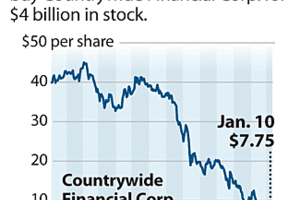 SOURCE: Countrywide Financial Corp./AP
America's banks and other financial institutions, frayed by the housing crisis, appear to be on the mend.
Stronger financial institutions are purchasing weaker banks and lenders. Some of the largest banks and brokers are getting injections of billions of dollars of new capital – much of it crucial as they report massive losses this week. There are indications, too, that trust is returning to the capital markets.
"We are continuing to see signs the major wounds are beginning to heal," says Jeffrey Kleintop, chief market strategist at LPL Financial Services in Boston.
But few expect the improvement to be instant – and the US economy may still undergo a downturn.
It could take months, or perhaps a year, before the elements of the financial markets return to normal, many analysts say. In fact, the stock market, down about 11 percent from highs last October, is still taking losses. The Dow Jones Industrial Average fell 246.79 points on Friday as investors worried about lower earnings.
Despite those short-term concerns, David Kotok, chairman of Cumberland Advisors in Vineland, N.J., says, "The important thing is that we are heading in the right direction, not the wrong direction."
---