Would tax rebates work?
The government aims for more spending, but in the past many saved their checks.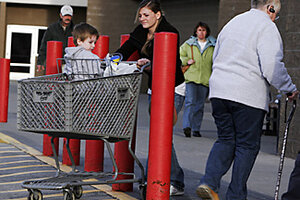 Pat Wellenbach/AP
If the US government can zip tax-rebate checks into the mail – as in legislation Congress is now developing – here's an idea of the type of economic stimulus it might provide:
•The gross domestic product could grow by as much as an extra percentage point, some economists say. The extra growth could translate into about 400,000 jobs that would not have been there otherwise.
•There could be a psychological lift that ends the current gloom-and-doom atmosphere in corporate boardrooms. On Monday, the world glimpsed the depth of negativism when stock markets from Europe to Canada to Asia nose-dived. The US markets were closed for the Martin Luther King Jr. holiday.
•The rebate checks could be a boon to tourism, home-appliance companies, and electronic-appliance stores.
Altogether, the government is hoping to add $145 billion to the economy. While the exact amount per person hasn't been determined, some estimates on Capitol Hill put it at $800 per taxpayer.
This would be almost four times the amount the government spent in 2002, the last time it tried to stimulate the economy.
Congress is more than aware of the need for speed: On Friday, Sen. Arlen Specter (R) of Pennsylvania told Fox Business Network that a bill could be on President Bush's desk within a week. In a best-case scenario, that might mean checks would get to consumers by spring.
---