Wind, solar tax credits to expire
Green Energy Advocates urge sustained support through inclusion in stimulus package.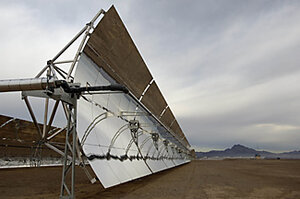 andy nelson/STAFF/file
With a big new solar power plant in the Nevada desert and thousands of wind turbines sprouting nationwide, US renewable energy seems poised for a boom as long as federal tax credits don't suddenly evaporate.
After years of start-and-stop growth, wind-and solar- power industries soared in 2007, thanks to three consecutive years of tax credits that provided a critical lift for both sectors.
But whether the fledgling industries can fly without tax credits, due to expire at the end of this year, is a question being debated on Capitol Hill this week.
As demand grows for a stimulus package for the faltering US economy, green-energy advocates argue that wind and solar – both left out of the new energy law passed last month – should be part of the package.
"The wind and solar investment project decisions made in this quarter will be halted without these critical tax credits," says Anna Aurilio, federal legislative director for US Public Interest Research Group in Washington. "It would be a tragedy to bypass industries that are going to meet US energy needs and create jobs."
The 2005 energy bill provided exactly the kind of multiyear support the wind industry says it needs. The impact has been dramatic. Nearly one-third of all US power capacity added last year – about 5,244 megawatts – was in wind. Overall wind-generating capacity soared 45 percent last year, adding the clean-energy equivalent of 10 large coal-fired power plants, the American Wind Energy Association (AWEA) reported last week.
---