In State of the Union, Bush unfurls a long 'to do' list for Congress
He called Monday on lawmakers to pass a stimulus plan, health-insurance tax breaks, and education reform – while trimming pork-barrel spending.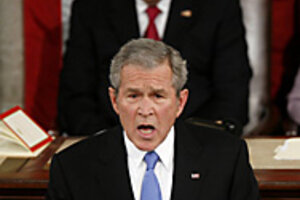 Jim Young/Reuters
Lame duck? Who's a lame duck? George W. Bush may have fewer than 12 months left in office, but on Jan. 28 that did not stop him from delivering a combative State of the Union speech that was perhaps short on soaring rhetoric but long on challenges to Congress to act.
The address was "noteworthy for not being particularly noteworthy," judged Charles Kupchan, senior fellow for European studies at the Council on Foreign Relations. While Mr. Kupchan was talking about foreign affairs in particular, that judgment might extend to the domestic portions of the speech as well.
At least that's what the president's Democratic opponents claim. Mr. Bush made no expansionary proposals, and few new proposals at all, said some lawmakers.
"I thought that the president's speech reflected a recognition that his term is pretty much at an end," said House majority leader Steny Hoyer (D) of Maryland at a Monitor breakfast on Tuesday.
Bush began the address – his final State of the Union – with a nod to bipartisanship, calling on Republicans and Democrats to show the nation that they "can compete for votes and cooperate for results at the same time."
Then he mentioned the economic stimulus deal his administration recently struck with House Democrats. But rather than hold out this deal as an example of Washington doing good work, he warned lawmakers against loading the legislation with extra provisions – something that, to be fair, Congress has been known to do.
---