Résumé advice for the over-50 crowd
Those with lengthy work histories must keep résumés brief and adjust to today's digital times, career specialist say.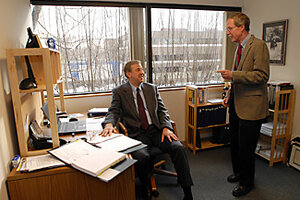 Mary Knox Merrill - staff
Whenever Rob­ert Skladany conducts work­­shops for job seekers over age 50, he hears one word again and again: résumés.
Among the men and women in these groups – some unemployed, others reentering the workforce – a common concern predominates. "They feel they are not at all familiar with contemporary résumés," says Mr. Skladany, vice president of research at RetirementJobs.com in Waltham, Mass.
One man told him he had not written a résumé for 25 years. In that time, résumés have indeed undergone a transformation. Paper documents, once read and filed by people, have turned electronic. Often they are screened by an employer's automated applicant-tracking system. These changes call for new approaches on the part of applicants.
"Older workers don't understand the environment they're putting their application into," Skladany says. "They still expect an acknowledgment."
By 2010, 1 of every 3 workers will be over 50 years old. To help them remain competitive in the job market, career counselors emphasize the importance of a polished résumé. Rob­erta Chinsky Matuson, president of Human Resource Solutions in Northampton, Mass., advises over-50 job seekers to consider four questions: Does your résumé look weathered? Has it grown to three or four pages over time? Is your first job after high school graduation still listed? Are you still displaying the date you graduated from college?
If you answered yes to any of these questions, she says, it's time to redo your résumé.
---