Why Bush's budget will change its shape
His $3.1 trillion budget would be the largest ever.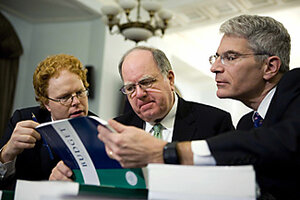 Joshua Roberts/Reuters
When it comes to President Bush's new $3 trillion budget blueprint for 2009, one thing is almost certain: It's going to get changed. Probably a lot.
In part that's because events may intervene. The economy could be falling into recession, with unpredictable fiscal results. The Iraq and Afghanistan wars will probably cost far more than the $70 billion allotted them in Mr. Bush's plan.
But politics is the main reason why Uncle Sam's actual '09 spending and taxing policies will probably end up so differently from the way the president proposes. Bush is a lame duck, with less power to get his way. A new chief executive – be they Republican or Democratic – will have different policy priorities.
And a Democratic Congress is unlikely to rubber-stamp Bush's proposed increase in military spending and decrease in domestic programs.
"He's drawing a tougher line in the sand than most Democrats can deal with," says Stan Collender, a former congressional budget official who is now a managing director of Qorvis Communications.
The president's 2009 budget, released Monday, calls for $3.1 trillion in federal spending. That marks the first time a proposed budget has broken the $3 trillion mark. By way of contrast, Bush's first budget, way back in 2001, called for less than $2 trillion in outlays.
---