United Airlines to charge passengers for 2nd checked bag
The airline announced that it will charge $25 to check a second piece of luggage for domestic travel.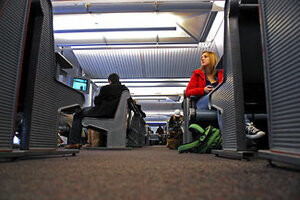 Alfredo Sosa/The Christian Science Monitor/FILE
United Airlines announced Monday that it would begin charging domestic passengers $25 per one-way trip for checking a second bag, a service that has until now been complimentary on major US carriers.
The charge applies only to nonrefundable economy tickets purchased by those who lack "elite" status in the airline's frequent flyer program. In a press release announcing what it called its "simplified checked bag policy," United said that the new fee is "part of its continuing effort to offer customers choice, flexibility, and low fares":
"This change enables us to continue offering customers competitive fares, and it fits with our overall strategy to tailor our products and services around what our customers value most and are willing to pay for, as we have with our popular Economy Plus seating," said John Tague, executive vice president and chief revenue officer. "Our customer research shows that only about one in four customers check a second bag, and with this new policy, customers who check extra bags may continue to do so for a service fee, which enables us to offer competitive fares to everyone."
United estimates that this change will generate more than $100 million annually for the company in cost savings and new revenue.
---