Office romance? First, sign a contract.
Love-struck workers may be inevitable, but lawsuits from jilted lovers are not – if employees consent to a 'love contract.'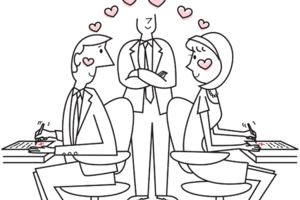 Scott Wallace
Five years ago, when Nicholas Turner began dating an em­­ployee who reported to him at Kaye/Bassman International Corp. in Plano, Texas, he did not try to hide their relationship. He was also careful to avoid any perception that he was playing favorites in his treatment of her. Their romance blossomed. When they married 18 months later, they joined at least four other couples who had wed after meeting there.
"The company doesn't frown on relationships," says Mr. Turner, chief operating officer of the recruiting firm. "They're going to happen. We support them."
It's an attitude more employers are accepting, however reluctantly, as Cupid's bow targets employees with increasing regularity. A combination of record numbers of working women, high divorce rates, and later marriages make the workplace a prime hunting ground. Surveys show that more than 40 percent of workers say they have dated a co-worker.
"The office has become the village of the 21st century," says Helaine Olen, co-author of "Office Mate: The Employee Handbook for Finding – and Managing – Romance on the Job." "Our social contacts come at work. It makes logical sense that you're going to date people there."
---