After housing bust, hard times in Arizona
State and local governments tighten belts as tax revenues fall, a ripple effect of the housing slump.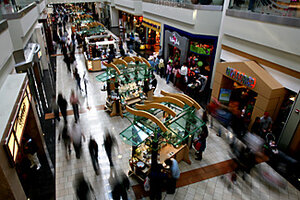 Mamta Popat/Arizona Daily Star/AP/File
Phoenix city officials are considering eliminating some 500 jobs, closing public pools for an additional two months each year, and reducing the hours of city museums and community centers to combat a $67.1 million projected shortfall in revenues this year.
In Tucson, Ariz., officials are reducing employee travel, equipment purchases, and hiring to deal with forecasts that they the city will take in $12 million less than anticipated this year.
Mesa, Ariz., has asked its departments, the biggest of which is public safety, to cut expenditures by 5 percent to meet a projected $15 million to $16 million shortfall.
Gov. Janet Napolitano (D) announced a hiring freeze across the state's executive agencies on Feb. 21 to help meet an estimated budget shortfall of $1.15 billion this year. The state legislature is considering other belt-tightening measures, as well.
The state of Arizona and all its cities and towns are confronting huge revenue shortages this year, mainly because sales-tax revenues are far below projected levels. In fact, Arizona has the dubious distinction – along with California, Nevada, and Florida – of leading the country in the current economic slide.
---