Spending habits: Americans at all income levels tighten their belts
As a recession looms, signs of a new frugality emerge. Say goodbye to long trips and lattes.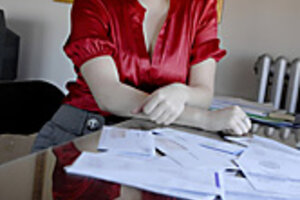 mark thomson
Until recently Shannon Palmer, like many Americans, spent money freely. She assembled a nice wardrobe, took four vacations a year, and ate out often. But now, as she listens to economists discuss the likelihood of a recession, she recognizes the need to get her own finances in order.
"I'm young and I feel mostly secure in my job, but I have a good deal of debt on my back," says Ms. Palmer, a publicist in Andover, Mass. As a step toward fiscal responsibility, she has begun a "very aggressive" plan to pay off student loans, a car loan, and credit-card bills. She has also started to save.
"This is a time for action when it comes to people taking responsibility for their personal finances," she says. "This is just the motivation I needed. It's forced me to look at things differently."
Looking at things differently is a theme running through conversations of Americans at all income levels these days as they review their spending habits. Nearly 2 out of 3 consumers intend to reduce indulgent spending in 2008, according to a new survey by HSBC Bank USA. Four out of 5 want to increase the amount they save.
"Even at the top layers of luxury, there has been some softening in spending," says Milton Pedraza, CEO of The Luxury Institute in New York. That includes yachts, jets, cars, and additional homes.
Among those who do not dwell in that economic stratosphere, the new prudence is often a necessity, stemming from uncertainty about jobs, high fuel costs, heating bills, and the price of healthcare. For others, like Palmer, it is voluntary and represents, at least in part, a shifting of values. They regard an economic downturn as an opportunity to reassess their priorities.
---