Coworking: How to work solo, but not alone
Telecommuters and the self-employed avoid isolation by renting shared workspaces.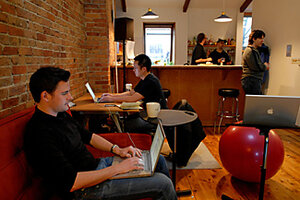 Mary Knox Merrill - staff
When Mike Jones signed on to be marketing director at an e-book publisher, one of the advertised perks was the chance to work at home full time. Two years later, he loves the job, but hated the location.
"I was totally cut off from the world," Mr. Jones says. "I was only working four or five hours a day because I'd keep looking for things to do just so I could get out of the apartment."
After months of searching for alternatives, Jones found Office Nomad, a shared workplace in Seattle that sells itself as "individuality without isolation." The studio plugs into a new and flourishing philosophy called "coworking."
The concept tries to combine the structure and socializing of a company office space with the flexibility of working from home. There are desks to rent, conference rooms to reserve, and still plenty of room to recline.
Coworking spots cater to the telecommuters, freelancers, and entrepreneurs of the e-mail era. These laptop bedouins represent a growing segment of the US workforce, and many coworkers say others are bound to find similar arrangements.
"I couldn't figure out why I had to choose between freedom and community," says Brad Neuberg, the computer programmer who coined the term coworking. "I wanted both. So I started imagining what that would look like."
In 2005, Mr. Neuberg found a woman's community hall in San Francisco that was empty during the day, and he struck a deal to use the space as the first coworking site. Every morning, Mr. Neuberg set up tables and waited for coworkers.
"For the first two months, no one showed up," he says, laughing at his initial hubris. "But people started trickling in and the word spread." Soon enough, he had started a movement.
---