U.S. coal power boom suddenly wanes
Worries about global warming and rising construction costs give the edge to natural-gas and renewable-energy plants.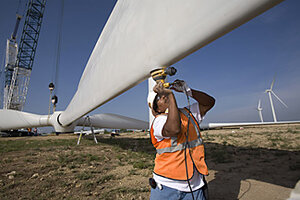 Robert Nickelsberg/Getty Images/File
Concerns about global warming and rising building costs are blocking construction of new coal-fired power plants in the United States and pushing utilities to turn to natural gas and renewable power instead.
Utilities canceled or put on hold at least 45 coal plants in development last year, according to a new analysis by the US Department of Energy's National Energy Technology Laboratory in Pittsburgh. These moves – a sharp reversal from a year ago, when the industry had more than 150 such plants in development – signal the waning of a major US expansion into coal.
Natural-gas and renewable power projects have leapt ahead of coal in the development pipeline, according to Global Energy Decisions, a Boulder, Colo., energy information supplier. Gas and renewables each show more than 70,000 megawatts under development compared with about 66,000 megawatts in the coal-power pipeline.
This year could diminish coal's future prospects even more. Wall Street investment banks last month said they will now evaluate the cost of carbon emissions before approving power plants, raising the bar much higher for new coal projects, analysts say.
"What you're seeing is a de facto moratorium on coal power right now," says Robert Linden, a senior oil and gas analyst at Pace Global in New York. "You turn off the money spigot, you've turned off those plants."
---