Delta-Northwest merger: pilots' demands hold any deal up
Even if an agreement is reached, some say that consolidation will lead only to more crowded planes and higher prices.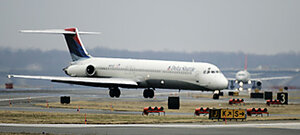 Haraz N. Ghanbari/AP
High fuel prices and the possibility of recession have sparked talk of a new round of mergers in the economically fragile airline industry.
For weeks, reports about a proposed Delta and Northwest Airlines deal have prompted aviation analysts to also contemplate the possibility of a merger between Continental and United. Such consolidation is supposed to bring about increased efficiencies as it helps improve the carriers' bottom lines. But the Northwest-Delta deal is hanging in the balance as both carriers' pilots demand that their seniority rights be protected in any deal.
That's stalled the talks. But Wall Street is speculating that the impasse is a negotiating tactic and will be short-lived. If a new round of consolidation does occur, the number of major network carriers could shrink from six to four or even three.
That has consumer and business-travel advocates lining up to fight any proposed deal. They argue that despite the short-term profits to be made on Wall Street and the improved bottom lines for carriers, customers will lose in the long term.
"Most people in the traveling public think we've hit the floor in terms of customer service in the airline industry, with the delays and congestion," says Kevin Mitchell, chairman of the Business Travel Coalition, which represents corporate travel managers. "We're going into the basement if this happens. Forget the floor."
---