Banks' losses could put $900 billion squeeze on consumers
Troubled loans – from homes to cars – could trim economic growth by 1 percentage point, a new forecast says.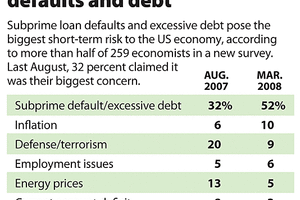 SOURCE: National Association for Business Economics/Rich Clabaugh–STAFF
The retailer Sharper Image offers a stark image of how the credit crisis on Wall Street is becoming a widespread credit crunch for the rest of America: The purveyor of gadgets recently declared bankruptcy, citing a tougher climate for financing among the reasons.
That company is not an isolated case. Consumers and businesses now face an economic downturn made more difficult by a contraction among banks and other lenders. In fact, the health of banks has become perhaps the biggest source of uncertainty about the economy.
How bad is the damage?
By one new estimate, troubled mortgages alone could knock a full percentage point off economic growth in the year ahead. And mortgages are just part of the problem. With losses also rising on loans for everything from cars to commercial real estate, banks effectively will have less money available to make new loans – perhaps $900 billion less.
"The reality is that banks are in trouble," says Ed Yardeni, an economist who until recently has been optimistic about the economy's prospects for avoiding recession. "I don't think they'll go bankrupt. [But] we're in the process of cleaning up the mess that the financial engineers created" by reselling shaky home loans to investors.
The mess doesn't have to have an unhappy ending, he says.
---