In budget wrangling, cost of doing nothing grows
At stake are competing visions of how to restore fiscal stability and ward off a recession.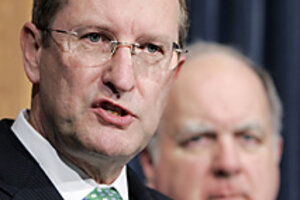 Larry Downing/Reuters/File
Congress plunged into next year's federal budget with marathon mid-week markups that framed a debate likely to be settled only by a new Congress and a new president.
At stake are competing visions of how to restore fiscal stability and keep the economy from sliding into recession.
For Democrats, the key is letting most of the Bush tax cuts expire in 2010, as currently projected, and targeting spending to promote growth.
Republicans say that tax cuts create the conditions for economic growth, and that it's spending, especially soaring entitlement spending, that must be cut.
But neither side of the aisle has the numbers – or consensus within its party caucus – to shift budget priorities decisively this year. The result is likely to be to punt long-term reform of taxes, spending, and entitlements to a new Congress.
With a bare majority in the Senate – and two of their own still in the hunt for the presidency – Democrats see little prospect of moving anything more than a status quo budget, if that.
"Our budget resolution for fiscal 2009 is no grand solution, but it moves us in the right way," said House Budget Committee Chairman John Spratt (D) of South Carolina, in his opening statement.
As the budget committee in the House began its markup Wednesday morning, the national debt stood at $9,369,868,561,555.66. That's about $30,000 owed by every American man, woman, and child, Democrats note as they argue the case for ending the Bush tax cuts.
Republicans counter that the nation's unfunded liabilities in Medicare, Medicaid, and Social Security are much larger. With an unfunded liability of more than $50 trillion, according to the Government
---