Job losses' ramifications far-reaching
Some expect Fed to cut rates by three-quarters of a point.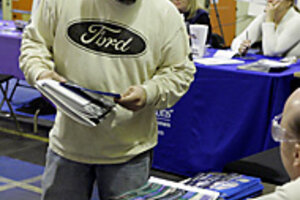 Carlos Osorio/AP
The job market, one of the strongest pillars of the US economy, is starting to deteriorate.
Employers in almost all sectors are postponing or canceling plans to hire new workers. If the hiring downturn continues, the ramifications for the economy could be major:
•Many analysts say a paucity of jobs will push America's economy into a recession, if it isn't there already.
•Consumer confidence – running at a low point – could continue to fall as Americans become discouraged about their job prospects.
•The Federal Reserve, which meets March 18 to decide interest-rate policy, will be under pressure for significant rate cuts – perhaps as much as another three-quarters of a percentage point.
"This could be a big turning point in the economy," says Mark Vitner, senior economist at Wachovia Securities in Charlotte, N.C. "It's clear that we are losing momentum, and weakness in the economy is broadening."
The latest indication of weakness in the job market came Friday, when the Labor Department reported that the economy shed 63,000 jobs last month. This follows a loss of 22,000 jobs in January. Although the actual unemployment rate went from 4.9 percent to 4.8 percent, economists say a more telling number is some 644,000 individuals who in January gave up looking for work and dropped out of the labor force altogether.
---