Eco office: greening the American workplace
Environmentally friendly practices win broad employee buy-in – but many workers save their real diligence for home.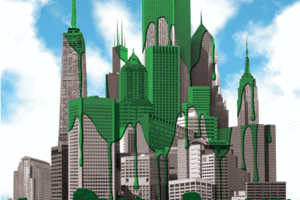 scott wallace - staff
When employees at the architecture firm LPA Inc., in Roseville, Calif., want to throw away coffee grounds or leftovers from lunch, they head for a set of stacked circular bins, 2-1/2 feet in diameter, tucked under a desk in a corner. There an in-office composter, complete with worms, turns food scraps into compost for staff members to use in their gardens.
A compost bin hardly ranks as part of typical office décor. But it symbolizes the serious – and richly varied – commitment firms like this are making to promote environmental initiatives. "It's just a nice part of the whole [green] push we have," says architect Paul Breckenridge.
Across the country, employers are scrambling to send an important message to workers, customers, vendors, and even the public: Green matters.
Part of that is a response to a bottom-up push. In a new survey by Randstad and Harris Interactive, 87 percent of employees say it is at least "somewhat important" that their employers offer "green-friendly" programs at work. Still, a contradiction exists: Only half of these employees conserve energy by turning off lights, TVs, and computers when they leave.
For some companies, going green involves little more than recycling soda cans. Others install compact fluorescent bulbs, use green cleaning products, and buy recycled paper. Still others upgrade heating and ventilating systems, install solar panels, and establish "green teams" of workers tasked with finding new workplace solutions.
---