Paulson outlines fix-it plan for credit crisis
Treasury secretary calls for tighter reins on financial markets as mortgage turmoil continues.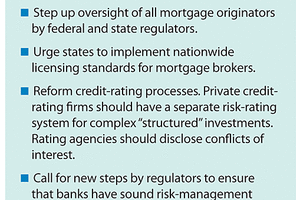 Rich Clabaugh
Six months after the Enron scandal in 2001, Congress approved far-reaching legislation that restored public confidence in corporate America and helped send the stock market soaring.
Now, seven months after the start of the subprime mortgage crisis, financial markets are getting the equivalent of the post-Enron treatment. Regulators are trying to rein in the financial innovators. The result is likely to be more regulation and higher costs for business but also more disclosure, transparency, and oversight to help investors.
"Clearly the regulatory structure did not keep pace with the financial innovation that occurred in recent years," says Mark Zandi, chief economist at Moody's Economy.com. "This is an effort to catch up."
The latest plan – announced Thursday by the Bush administration – would affect a large swath of the credit market, ranging from mortgage lenders to the financial institutions that find innovative ways to sell those mortgages to sophisticated investors. Specifically, the proposal would boost oversight of all segments of the mortgage business, create licensing standards for mortgage brokers, and pressure credit ratings agencies, which decide the financial strength of companies, to improve their analysis.
"The objective here is to get the balance right," said Treasury Secretary Henry Paulson, who announced the plan in Washington. "Regulation needs to catch up with innovation and help restore investor confidence but not go so far as to create new problems, make our markets less efficient, or cut off credit to those who need it."
---