Tough times force airlines to scale back
With rising fuel costs and a recession in the wings, airlines are cutting jobs and hiking prices.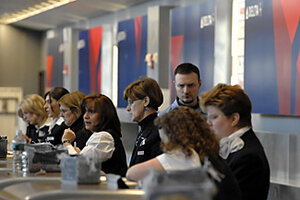 Mark Thomson
Fly the shrinking skies of United – and most major American carriers. With fuel prices reaching record highs, a recession on the horizon, Wall Street battering their stocks, and the American dollar sinking to new lows, airlines are scaling back operations.
They're grounding planes, cutting domestic capacity, and eliminating jobs. American Airlines even plans to sell off its regional carrier, American Eagle.
They're all hoping to strengthen their frail bottom lines in the face of stiff economic headwinds. And for the flying public, all this retrenching will mean higher ticket prices, more fare restrictions, and decreased access to some smaller cities.
"The party's over, particularly for leisure travelers," says Robert Mann, an aviation analyst in Port Washington, N.Y. "The public has benefited from six years of remarkably low pricing which is going to come to an end."
Last week, some airlines hiked prices an average of $50 per round trip. Aviation analysts say with oil hitting $111 a barrel, that's just a start of a spiral that could lead to even higher prices in the near future. That's because of the relationship between price and demand. When ticket prices go up, fewer people usually choose to fly. And when fewer people fly, it costs more to operate the planes, and prices may go up yet again. So airlines are preparing for a double whammy.
---