Economic woes hit state budgets
Soaring inflation and shrinking tax revenues will make it tougher for at least 25 states to fund public services.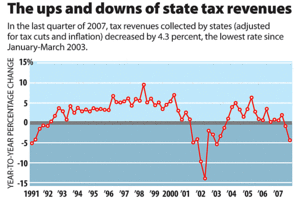 SOURCE: Individual state data analysis from the Rockefeller Institute of Government with legislated tax changes by the National Conference of State Legislatures and inflation data from the US Bureau o
In Nevada, Gov. Jim Gibbons told legislators on March 31 that the state's budget shortfall could reach $900 million by the middle of next year – and that he wants spending cuts beyond the 4.5 percent cutbacks he ordered in January.
In Florida, state leaders say they are facing a series of budget shortfalls unprecedented in modern history. They're considering using up as much as $1.7 billion in revenue reserves to plug spending gaps in coming months.
In Maryland, the General Assembly last fall raised taxes by $1.4 billion a year at Governor Martin O'Malley's urging. His job approval rating has now fallen below 40 percent.
Across the United States, soaring inflation and shrinking tax revenues have combined to place state budgets under severe stress.
This fiscal year is tight, and the next one promises to be even tighter. At least 25 states will be in the red for fiscal 2009, which begins this coming July for many. The combined shortfall is expected to total at least $39 billion, according to figures compiled by the Center on Budget and Policy Priorities.
"The result may be a squeeze on states' ability to fund services," said Robert Ward, deputy director of the State University of New York's Rockefeller Institute of Government in a report on state budgets released March 31.
---