Burdened by taxes? Try a new location.
Wallet Wise: Few think about taxes when choosing where to live, but it's worth learning how city and state tax codes differ.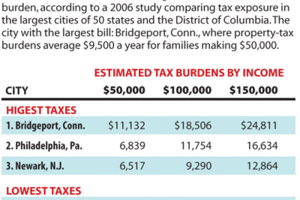 Scott Wallace
Cherry blossoms in the nation's capital; opening day of the Boston Red Sox season; sails billowing on Chicago's Lake Michigan. Such rites of spring are sure to evoke a smile in mid-April.
Equally symbolic, if generally less welcome: tax time. With the ink not yet dry on many checks to state and local governments, Americans are focusing more on their tax burdens than on their local climate and attractions.
Yet many may never have considered taxes when deciding where to live. For most working families, employment opportunities, reputation of public schools, and proximity to family are the dominant factors when choosing to move. But once they have committed to a job, seeking a community to call home offers an opportunity to "tax shop" for a less expensive jurisdiction. Even within a county, taxes can vary as a result of special city levies.
For relocating retirees, however, the tax profile of a community emerges as a primary consideration. Smart retirees seek communities with the lowest income, property, and sales taxes – levies that can add up to significant expenses on a retirement budget.
The amount of variation is striking. Families earning the same income experience significant differences in the tax burdens they shoulder, depending on where they live (see chart). Salt Lake City, for example remains a bargain at all income levels with a flat tax structure neutralizing income increases. Washington, D.C., has a highly progressive tax structure that captures increments of income growth, serving as a disincentive for the relocation of higher income families.
---