Will the Simple Return end April 15 tax agony?
Thousands of Californians will use the program, which provides taxpayers with filled-in statements.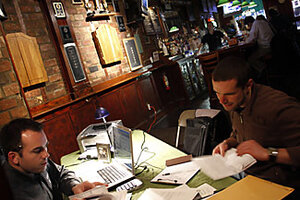 joshua lott/reuters
Every year, Americans spend millions of hours filling out tax forms that show the federal government what it already knows: income, interest earned, and interest paid.
If it's all in government databases anyhow, why not save taxpayers the hassle and give them forms with that information already filled in and calculated?
That's the idea behind the Simple Return, and as today's tax-filing deadline arrives, thousands of Californians will have completed a version of it. It's a system gaining its advocates, among them presidential hopeful Barack Obama: his chief economic adviser is one of its architects.
Simple Returns could be used by 40 percent of Americans who have basic tax liabilities, saving them 225 million hours of preparation time and more than $2 billion in tax-preparation fees, proponents estimate. Convert that time into money, and the savings jump to $44 billion over 10 years.
"Think of a tax return like a Visa bill. Visa doesn't send you a blank piece of paper and say, 'Write down all your transactions.' They send you a printout and they say, 'Look it over,' " says Joseph Bankman, a Stanford University law professor who helped devise the ReadyReturn, California's version of the Simple Return.
Opponents including members of the tax-software industry and small-government conservatives warn that the Simple Return weakens taxpayers' position vis-à-vis the tax collector.
---