Mortgage exec incentives face increased federal, industry scrutiny
As the Federal Reserve promotes reforms, investors also call for change.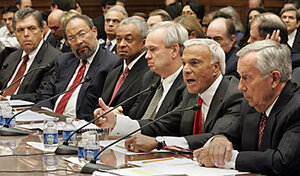 Susan Walsh
The financial industry faces growing pressure to change the pay incentives that helped stoke a great mortgage boom and bust.
The surge in subprime lending was rooted, experts say, in fees and bonuses that made it profitable for Wall Street firms to focus on the quantity, not quality, of loans.
Now the pay issue is coming into focus on several fronts:
• The Federal Reserve has proposed new lending rules that include some limits on how mortgage brokers are paid.
• Investors, at corporate annual meetings this month, are urging reforms that could affect executive pay.
• The credit downturn itself creates a powerful motive for companies to better align their incentives for long-term success.
How much will actually change? The answer depends partly on how the economy fares in what could be a year of recession.
"If it gets really bad, the nature of the inquiry could be unbounded," says Raghuram Rajan, a finance expert at the University of Chicago.
New regulatory guidelines for mortgage lenders appear all but certain.
Congressional legislation is also possible. In a sign of their concern, lawmakers recently called several mortgage-related chief executives to face a grilling about their pay.
Changes by marketplace participants may be the most important, since a central problem defies one-size-fits-all regulation. The challenge is how to define "performance" in an era of performance-based pay: Over what time frame is achievement measured, and with what weight on managing risk as well as pursuing rewards?
---