The rising impact of high oil prices
Americans now spend a larger share of their income on energy than at any time since 1986.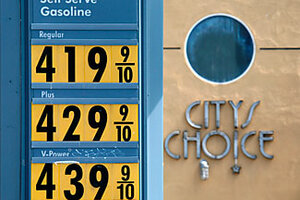 Jeff Chiu/AP
Americans cannot avoid the soaring price of oil.
They pay for it at the pump, with gasoline at a record $3.42 a gallon. They get hit by fuel surcharges when they book airline flights. Higher fuel prices are a major reason for rocketing food prices – in part, because corn is being diverted from the food supply to make ethanol, in part because of higher fuel costs to produce and transport food.
Now, rising energy prices – oil hit records above $115 a barrel this week – are causing concern about the potential damage to the economy. Americans are spending a larger share of their income on energy than at any time since 1986. That has crimped pocketbooks and helped dampen consumer sentiment. Purchases of everything from cars to clothing are falling.
"We are all worth less and earning less than a year ago," says economist Mark Zandi of Moody's Economy.com. "That is why consumers are pulling back, and judging from the confidence numbers they are in a panic mode."
Many energy analysts believe the bad news is just beginning – the price of gasoline is expected to continue rising through Memorial Day.
Since the beginning of April, the price of gasoline has risen by 13 cents per gallon, according to AAA, a drivers' organization in Heathrow, Fla. AAA is predicting gasoline prices on a national basis will hit $3.50 a gallon by Memorial Day. "It's well within the range of possibilities, but we think $4 a gallon is still premature," says Geoff Sundstrom, a spokesman.
---