More mutual funds play both sides of the market
130/30 funds try to profit from winners and losers alike.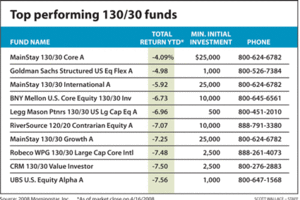 Scott Wallace - staff
If you've been itching to play the market like the big pros, but lack their megabuck accounts, more mutual-fund providers have something that might catch your eye: 130/30 funds.
To New York financial planner Karen Altfest, they're a type of "hedge fund in a mutual-fund wrapper."
These offerings, which use a form of long-short investing, have left some observers debating whether they make good investments in today's topsy-turvy market.
Fund-tracker Morningstar Inc. counted 20 such funds as of April 4, but more are being rolled out. This month, for example, Fidelity Investments launched its version, a 130/30 Large Cap Fund, and Nicholas-Applegate Capital Management undraped its 130/30 global equity offering. American Century Funds plans to unveil two 130/30 equity funds this year, a spokesman says.
As for their strategy, these funds take long and short positions at the same time. Long positions are stock holdings that investors expect to rise in price; conversely, short positions are bets that the price of a security will drop.
Here's how a 130/30 fund works: A fund manager invests in a portfolio of stocks, and then takes short positions of up to 30 percent of the value of those invested assets. Proceeds from that short-selling are used to buy more stock for the fund, bringing the "long" portion of the fund to 130 percent of the initial invested capital. As these extra-long positions offset the shorts, it creates a portfolio that is net 100 percent invested.
---