High oil prices put focus on Strategic Petroleum Reserve
Stop adding to the oil reserve, some say.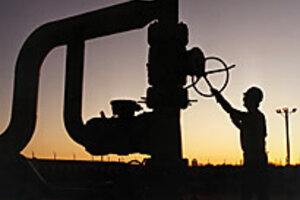 Energy Department/AP/FILE
Uncle Sam is adding 60,000 barrels of oil a day to giant underground caverns in Texas and Louisiana to be used for the proverbial "rainy day."
Is it raining yet?
The price of oil is moving closer to $120 a barrel, up almost $19 a barrel for the month. Gasoline stations can barely change their prices fast enough, and the cost of regular grade hit a record $3.54 a gallon on Wednesday morning, according to GasPriceWatch.com.
The driving club AAA is raising its estimate of Memorial Day pump prices to $3.75 a gallon, up 25 cents a gallon from its earlier prediction.
"At some point, we have to think about whether we have a price emergency on our hands," says Geoff Sundstrom, a spokesman for AAA in Heathrow, Fla.
Proponents of the government taking action to ease the crunch say that storing oil at a time of soaring prices, in what is called the Strategic Petroleum Reserve (SPR), does not makes sense. Some want some oil released in the hope that it will drive down prices. Opponents counter that using the SPR would probably have little impact. In fact, they maintain, as does President Bush, that there is no emergency.
---