Are Fed rate cuts nearly over?
After a potential cut Wednesday, the central bank may pause to assess the economy.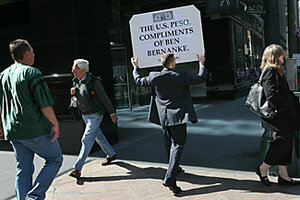 Mark Lennihan/AP
In the past eight months, the Federal Reserve has embarked on the most aggressive interest-rate reductions since 1982, when America's central bank decided it needed to jolt the economy out of a recession with a massive infusion of money.
On Wednesday, the Fed is expected to make one more quarter-point drop. But economists anticipate that the central bank, which is chaired by Ben Bernanke, will then pause and reassess the economy. Wall Street will be particularly anxious to see how the Fed explains its actions: whether the pause is because the central bank sees an economy on the mend or because its focus is shifting to inflation concerns.
If interest rates do stop falling, it could give some support to the battered US dollar, economists say. A stronger dollar might discourage some speculative money from being invested in oil and other commodities.
The Fed's actions could also send an important psychological signal, economists say. "A pause by the Fed is a reflection of the fact the Fed thinks the worst is over or at least the bottom is in sight for the economy," says David Wyss, chief economist for Standard & Poor's in New York.
---