Tax rebates: How big a boost?
The $107 billion stimulus is now flowing to taxpayers, to spend or save as they see fit.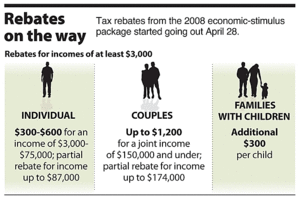 SOURCE: US Congress/AP
Rebate checks have begun flowing from the US Treasury, and economists from Washington to Wall Street are now waiting with fingers crossed, eager to see if this $107 billion in government stimulus spending will jolt the US economy out of its doldrums.
Most figure the money will provide at least a modest boost. But there is no consensus on when the bump might start or how long it might last.
Much hangs on the behavior of consumers: how much of their checks they spend and what they spend them on. As retailers know, the US consumer in its shopping habitat can be a wildly unpredictable animal.
Overall, the checks should add three-quarters of one percentage point to the gross domestic product this year, estimates Douglas Elmendorf, an economist at the Brookings Institution in Washington.
"Given the current state of the economy, it is extremely important that we did this," says Mr. Elmendorf.
At a Tuesday press conference, President Bush sidestepped a question about whether Washington should consider a second stimulus package. He counseled patience, saying the economy had yet to feel the effects of the first round of stimulus checks.
"Now you know, after a period of time, the money is beginning to arrive. We'll see what the effects are," Mr. Bush said.
Checks arriving in individual accounts
The first direct deposits of the tax- rebate checks approved by Congress and the White House in February began appearing in individual bank accounts on April 29, a few days earlier than anticipated. Paper checks will start going out on May 9, a week earlier than planned.
---