What has driven up oil prices
Speculation and a falling dollar may now be as important as supply and demand, analysts say.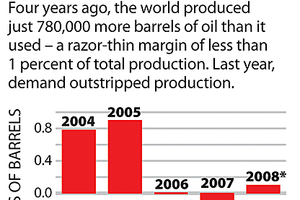 SOURCE: US Energy Information Administration/Rich Clabaugh–STAFF
The recipe for record US gasoline prices goes like this: Take a tight oil supply and growing world demand. Add a falling dollar and lots of investment money flowing into oil and other commodities.
Finish with market turbulence caused by the annual switch from winter to summer gasoline blends. The result: an average US retail price for regular of more than $3.60 a gallon.
Will gasoline stay that high? At least through the summer, say experts. At the margin, pump prices may now depend on currency fluctuations and financial speculators as much as on traditional economics.
"The old fundamentals – the balance between demand and supply – still matter, but it is these new factors that are the driving force behind the record high," concludes a recent analysis by Cambridge Energy Research Associates.
On international markets, the price of a benchmark barrel of oil has retreated a bit in recent days. But the recent state of the market can be seen in the fact that on May 1 Exxon Mobil Corp. reported first quarter net income of $10.89 billion – its highest ever.
Average US retail gas prices have risen for five weeks in a row, according to the Energy Information Administration's latest available figures. At $3.60 per gallon, the average price of a gallon of regular has now spiked 21.4 cents since April 14.
---