College grads face tougher job market
Entry-level pay rises, but offers are less plentiful.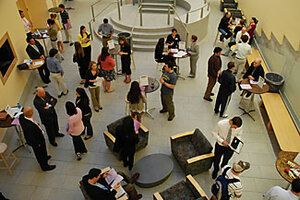 Tom A. Peter
Unlike most of the underclassmen who've come to Science Career Night at Boston College dressed in jeans, some even in backward baseball caps, Timothy Harrington arrived better dressed than some of the recruiters. As a graduating senior, Mr. Harrington is only months away from the real world. Now all he needs is a full-time job to match his snappy suit.
Unfortunately, finding one has proven more difficult than expected.
All of his friends who graduated last year found work and "none of them have had to go through the same amount of grief that I have," says Harrington, a biology major who hopes to go into sales. "The closest I can get to [employers] is usually through their website, and then all you do is plug your résumé into a database and I don't even know how they look at those."
Harrington is one of 1.5 million college grads expected to have a harder time landing a job this year as the United States slides deeper into recession. Although the job market continues to expand, its growth rate has slowed to the lowest in five years as employers gauge how the economy will take shape in the months ahead. If current trends persist, some workplace experts say, college graduates will continue to face an increasingly shrinking job market.
---