Will taxpayers be on the hook for subprime crisis?
Federally linked entities like Fannie Mae now back 98 percent of home loans sold by banks.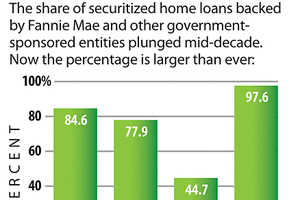 SOURCE: UBS/Rich Clabaugh–STAFF
With a nationwide housing crisis far from over, the risk of future mortgage losses is rapidly shifting from the private sector toward government – and potentially US taxpayers.
This is occurring partly by choice, as policymakers try to stop a wave of foreclosures.
It is also happening by circumstance, as the crisis has left government-linked entities as the lenders of last resort in a troubled marketplace.
One symbol of rising risks came on Tuesday, as mortgage giant Fannie Mae announced a $2.2 billion loss for the year's first quarter. The Federal National Mortgage Association, the official name that has been shortened to Fannie Mae for convenience, is not officially part of the government.
But its public charter, created in the wake of the Depression, is to help make sure that home loans remain available in bad times as well as good. That mission has helped avoid a total shutdown of mortgage markets over the past year. But it means that Fannie, along with entities with a similar mission, are assuming the risks that come with making loans at a time when house prices continue to fall.
"They are fulfilling their mission ... but concentrating risks on themselves," Edward DeMarco, deputy director of the Office of Federal Housing Enterprise Oversight, told a conference of mortgage bankers this week in Boston.
Home prices have been falling by double-digit rates in many metro areas, yet the inventory of homes for sale remains sky-high.
---