Where housing bust hits hard
In many metro areas, far-flung suburbs and exurbs face sharp declines in home prices.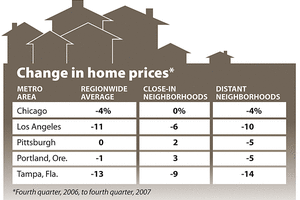 SOURCE: CEOs for Cities, using home-price estimates from Zillow.com/Rich Clabaugh–STAFF
Although America's housing downturn has rippled nationwide, its impact varies greatly by geography – right down to individual streets, developments, and ZIP Codes.
In many metro areas, far-flung suburbs and exurbs face sharper price declines than neighborhoods closer to city centers.
It's no secret, for example, that Florida is among the states where property prices flew high and fell hard. But in Tampa's ZIP Code 33607, near downtown, the median home lost just 1.3 percent of its value last year, according to new research. ZIP Code 33573, in contrast, lies about 18 miles away and saw a 22 percent price decline.
The housing bust is also falling heavily on low-income and minority neighborhoods. That's not just a story of borrowers with a weak ability to pay. The larger story, another new study finds, is that lenders made a headlong rush to extend credit where it was least warranted.
What links these trends is that in both zones – the exurbs and low-income communities – the housing market peaked with lots of new loans and with lenders stretching the limits of sound finance. Now, these geographic patterns are partly defining the nature of America's economic slowdown and could also influence policies designed to heal the housing market.
"You had a lot of first-time buyers," says Rick Sharga, a vice president of RealtyTrac in Irvine, Calif. "They bought ... an overvalued property with a risky loan."
One factor, in the exurbs, is this decade's home-building boom. Housing developments that were showing off brand-new units in 2006 now see multiple foreclosures. The land available for these developments was generally in exurbs or at the urban fringe.
---