Imports fall, improving U.S. trade balance
The shift reflects consumer stress, but it could help boost US manufacturers.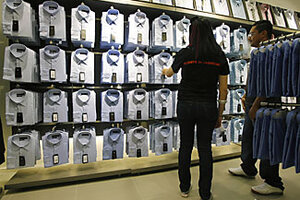 Damian Dovarganes/AP
America's long-insatiable demand for imported goods is cooling. It's seen in everything from clothing, furniture, and even imported oil:
•At European Imports in Boston, demand for jewelry has plunged, thanks to a cooling economy, rising metal prices, and shifting exchange rates.
•At Hayes Specialties Corp., an import wholesaler in Saginaw, Mich., toys and other items from China have soared in price – and some key customers are buying less.
•JetBlue just postponed a purchase of nearly two dozen airplanes from Airbus, the European jetmaker.
•At the Port of Long Beach, Calif., the volume of containers (mostly from Asia) is down about 10 percent from a year ago.
•The US expects oil use to decline this year by about 190,000 barrels a day – a drop that largely affects the volume of imports.
"That's one of the big stories of the past year, [although] somewhat hidden by the jump in oil prices," says David Wyss, chief economist at Standard & Poor's in New York. "We've seen a definite slowing of imports while export growth has remained very strong."
---